Based on his study of many ancient manuscripts, Davenport believes that the end of Mohenjo Daro was tied to a state of war between the aryans and themongols.
Aryans controlled regions where space aliens were mining minerals and exploiting other natural resources, he believes. Because it was a Mongol city, the aliens had agreed to destroy Mohenjo Daro on behalf of the Aryans.
The aliens needed the friendship of the Aryan kings so that they could continue their prospecting and research, explained Davenport.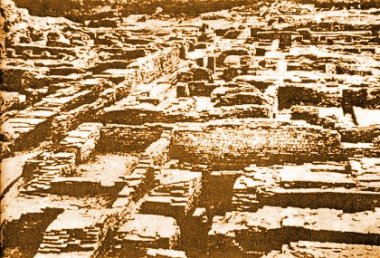 Mohenjo Daro ruins
The texts tell us that 30,000 inhabitants of the city were given seven days to get out – a clear warning that everything was about to be destroyed. Obviously, some people didn't heed the warning, because 44 human skeletons were found there in 1927, just a few years after the city was discovered.
go to next page to watch two separate videos of nuclear bomb detonation. one for live bombing, other for brutal destructive aftermath.