भगवान राम को इससे सागर पर क्रोध आ गया। राम ने अपने दिव्य वाण को जैसे ही धनुष पर चढ़ाया सागर भागकर श्री राम के चरणों में आकर गिर पड़ा और क्षमा मांगने लगा। भगवान राम ने सागर को क्षमा दान दिया। सागर ने कहा कि आपकी सेना में नल और नील नाम के दो वानर हैं।
God ram got angry on ocean. The moment ram pointed his arrow on his bow, the ocean fell on his feet and apologized. Kind ram forgave ocean. Ocean said then " there are two monkeys in your army nal and neel ."
यह भगवान विश्वकर्मा के पुत्र हैं और विश्वकर्मा के समान ही शिल्पकला में निपुण हैं। इनके हाथों से पुल का निर्माण करवाइए, मैं पत्थरों को लहरों से बहने नहीं दूंगा।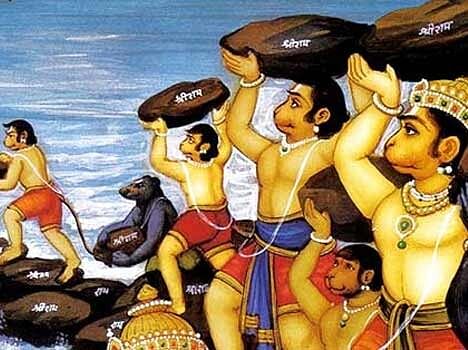 They both are son of god vishvakarma and skilled like vishvakarma in construction. Ask them to start making the bridge. I will not let the stone sink in water.
राम ने नल और नील के हाथों पुल निर्माण का काम शुरू करवाया। नल और नील को वरदान प्राप्त था कि उनके हाथों से फेंका गया पत्थर पानी में डूबेगा नहीं। बस फिर क्या था देखते ही देखते वानर सेना ने महज पांच दिनों में लंका तक पुल का निर्माण कर दिया।
Ram asked nal and neel to start making the bridge. Nal and neel were blessed if they throw stones in water it wouldn't sink. There was nothing to wait for. 1500 kms Bridge was made in five days.
यह पुल अज भी भारत और श्री लंका के मध्य स्तिथ हे , आप इसे गूगल मैप्स पर भी देख सकते हे ,
This bridge is still  located between india and shri lanka. You can watch it on google maps too.
सोर्स – अमर उजाला
source – amar ujala