The Cham script is a descendent of the South Indian Brahmic Grantha script. Many Hindu stone temples of the Champa include both Sanskrit and Chamic stone carvings.  The temples in My Son were built into groups that basically followed the same model. Each group was comprised of a main sanctuary (kalan), surrounded by towers and auxiliary monuments. Kalan, which is a symbol of Meru Mountain — the mythical sacred mountain home of Hindu gods at the center of the universe — is dedicated to Lord Shiva.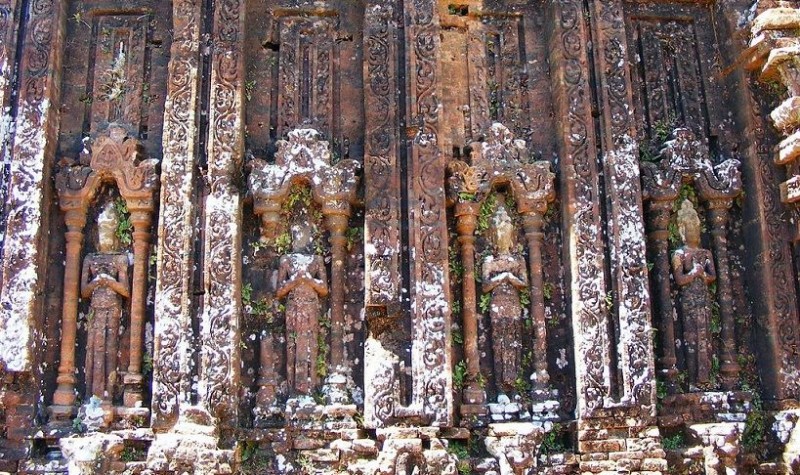 They are constructed in fired brick with stone pillars and decorated with sandstone bas-reliefs depicting scenes from Hindu mythology. Cham temples do not have windows, so they are very dark inside. Windows are only found on the towers. The predominant style of the architecture and sculptural decoration of the My Son temples derives directly from India. Their technological sophistication is evidence of Cham engineering skills while the elaborate iconography and symbolism of the tower-temples give insight into the content and evolution of Cham religious and political thought.  The temples at Mỹ Sơn are made of a reddish brick. Decorative carvings have been cut directly into the bricks.
The Champa Kingdom began in AD 192 when the people of the Tuong Lam area rose up against their Chinese overlords and founded an independent state in the narrow strip of land along the coast of central Vietnam. The Cham came under the influence of the Hindu religion of the Indian sub-continent early in their development, though the exact date is not known. Under this influence many temples were built to the Hindu divinities such as Krishna and Vishnu, but above all Shiva.
go to next page to watch Apsara dance by Cham artists